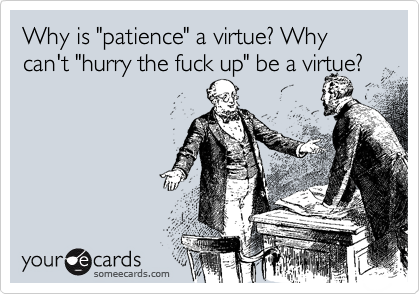 So, in my last post, I talked a little bit about some of the things my vet and I were considering, should the bloodwork rule out the first potential diagnosis of a mild bronchial pneumonia. Like a procedure that sounds strangely like asphyxiating my Thoroughbred.
When the bloodwork came back perfectly normal, my vet and I talked about the next step and agreed that rather than more testing, we'd first rule out the biggest significant change in Archie's environment: the stall. This makes me a wee bit sad because I won't get reimbursed for the two weeks that he won't be in it and also because I'm afraid for his feet. But "Against Medical Advice" trumps "Against Farrier Advice", so out the stall he goes. (There are things I am happy about with him being taken out of the stall: namely the fact that the fan was never turned on and confinement isn't great for old man joints.)
I told the vet that I would follow up with him after a few days to see if I could note any improvement in the coughing situation. If there is an improvement, I'm not sure exactly what it means as far as diagnosis. And future stall board. I guess we'll get there when we get there.
Getting somewhere, yeah?
Several people remarked on the possibility of PPID (formerly Cushings). I point-blank asked my vet if he thought that was a possibility (because my knowledge extends to Bunny, the PPID/IR/laminitic/geriatric Appy) and received a definitive "not at all". Archie doesn't show any of the typical symptoms of a PPID horse and I couldn't find a correlation between it and coughing (except for
Tristan
!).
Calm, Forward, Straight
pointed out some articles from Melissa at
Paradigm Farm
(which is my retirement farm of choice, guys, remember that in case I have a horrific accident - there are some emails somewhere from estate planning a billion years ago....) regarding the disease. Absolutely worth a read and can be found here:
Cushings/PPID Primer
.
As far as RAO goes: I've got no problems with Archie living outside, because he already does (ideally with at least a walk in, which he currently doesn't have). I worry a little bit about things that may necessitate a stall, but my vet is a huge believer in horses being out. If it does turn out to be tracheal paralysis (the least likely of everything the vet and I discussed), I'm not inclined to think that I would put him through surgery. He would likely have to grow giant balls and become a full-time trail pony, because if he can't exercise without coughing, he can't exercise.
But he can always be a model.