I rode Whiskey last night and then brought Archie in to give him some soaked beet pulp/alfalfa pellets. As I was turning Archie back out, I wanted to make him "work" a little bit for his turn out treats, and asked him to smile.
He got a real pretty mouth ain't he?
All the dentistry I know (knew?) led me to believe that as a horse ages, their teeth just.. keep growing. Like mm a year, but still growth. Then you get the hook that comes and goes, and then the
Galvayne's Groove
, and finally those old buggers eventually meet at a skin-piercing angle.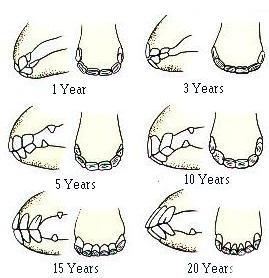 So imagine my surprise when I text my vet to tell him that Archie's incisors (the only I've successfully checked thus far) are shrinking and he replies, "They are expiring. Normal aging process." WTF?


As a horse approaches 30 years of age, his cheek teeth lose much of the ridge-and-groove architecture that allow him to grind grains and forage. These teeth are often referred to as expired, or the horse may be described as having smooth mouth. Special dietary considerations must be made for horses that are unable to adequately process feed, in order to prevent choke while still providing adequate caloric intake.

Source

I verified that at this point we don't need to make any dietary changes, as the old man eats just fine. I guess this is something that I'll try to capture in a series of smiles, since it's something I've never heard of and might be sorta interesting to follow.
january - april - august